---
Firefighter Mike Banner recently stumbled on a Japanese "red soda" that actually heats up and melts large amounts of clogged fat...releasing it as energy...
When he gave some to hfis 45-year-old sister, Susan, she was able to melt 54 LBs by simply drinking this red soda daily before 10am...
=> Discover the Japanese "Red Soda" to Melt 3 LBs every 5 Days
---
Hello! My name is Lena White. I live in Charlotte, North Carolina. I've been gardening here for over 30 years. I recently retired from medical practice and now I have more time to do what I love.
This spring's color show was really something special!
This first photo is my snowball viburnum (Viburnum plicatum, zones 3–8). It got a little too big so I'll try to prune it back after it has bloomed.
Next up is a 'George L. Taber' azalea (Rhododendron 'George L. Taber', Zones 7–9), one of my favorites. This is one of the southern indica species of azaleas that has large flowers for an azalea and great displays.
This Lady Banks rose (Rosa Banksiae 'Lutea', Zones 7-10) has climbed to the top of the house. Lady Banks is an almost thornless climbing rose.
More azaleas.
And more azaleas, because what would a southern garden be without azaleas?
Redbud 'Forest Pansy' (Cercis canadensis 'Forest Pansy', Zones 5–9) with the sun shining through the leaves.
A beautiful azalea with double flowers that show off extra layers of petals for even more color.
The Columbine 'Winky Double' (Aquilegia 'Winky Double', Zones 4–8) has double flowers, a compact habit and upward-pointing flowers.
A white clematis (clematis, early large-flowered group, zones 4–10) stands in front of a blue scaevola (Scaevola aemula, zones 10–11 or as annual).
The pink climbing rose 'Zéphirine Drouhin' (zones 5–9) has fragrant flowers and almost thornless stems.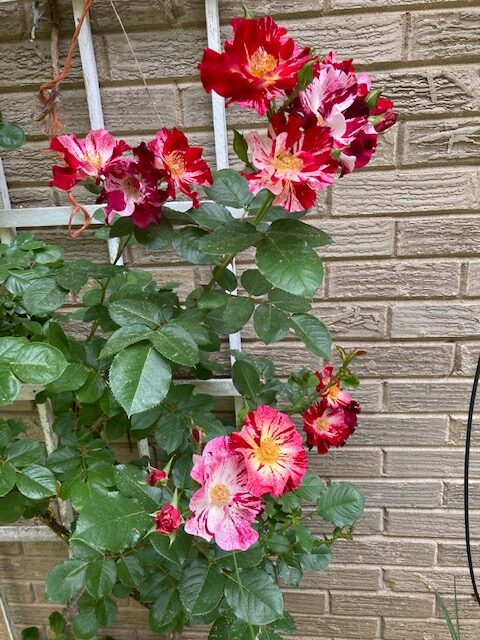 Rosa 'Fourth of July' (zones 5–9) is a climbing rose with striped red and white flowers, each with a different pattern.
Do you have a garden that you want to share?
Do you have photos to share? We'd love to see your garden, a specific collection of plants that you love, or a beautiful garden that you got to visit!
Submit 5-10 photos to for submission [email protected] along with some information about the plants in the pictures and where you took the photos. We'd love to hear where you are, how long you've been gardening, successes you are proud of, failures you have learned from, hopes for the future, favorite plants or funny stories from your garden.
If you want to send photos to the GPOD email box in separate emails, that's fine.
Do you have a cell phone? Tag your photos on Facebook, Instagram or Twitter with #FineGardening!
You don't have to be a professional garden photographer – read our garden photography tips!
Have you already received the GPOD by email? Login here.
Receive our latest tips, how-to articles, and how-to videos sent to your inbox.