My name is Rose Flanagan and I have been based in Maplewood, New Jersey for 20 years. I am sharing photos of my front yard from June last year. It has a wide variety of settings. To the left of the entrance to the house is a long, sunny flowerbed and everywhere else a speckled, lighted garden. It took a long time to really understand the concept of planting the right plants in the right place, but I think I finally got there. Gardening is my passion. I have just renovated my garden and am creating a small zen garden together with a deer and rabbit resistant garden. Can't wait to start digging.
My amazing human stopping blue hydrangea (Hydrangea macrophylla, zones 5-9).
The hydrangea's stunning rich blue color is the result of growing in acidic soils.
A mixture of crocosmia (Crocosmia hybrid, zones 6–9) and coneflower (Echinacea purpurea, zones 3–9).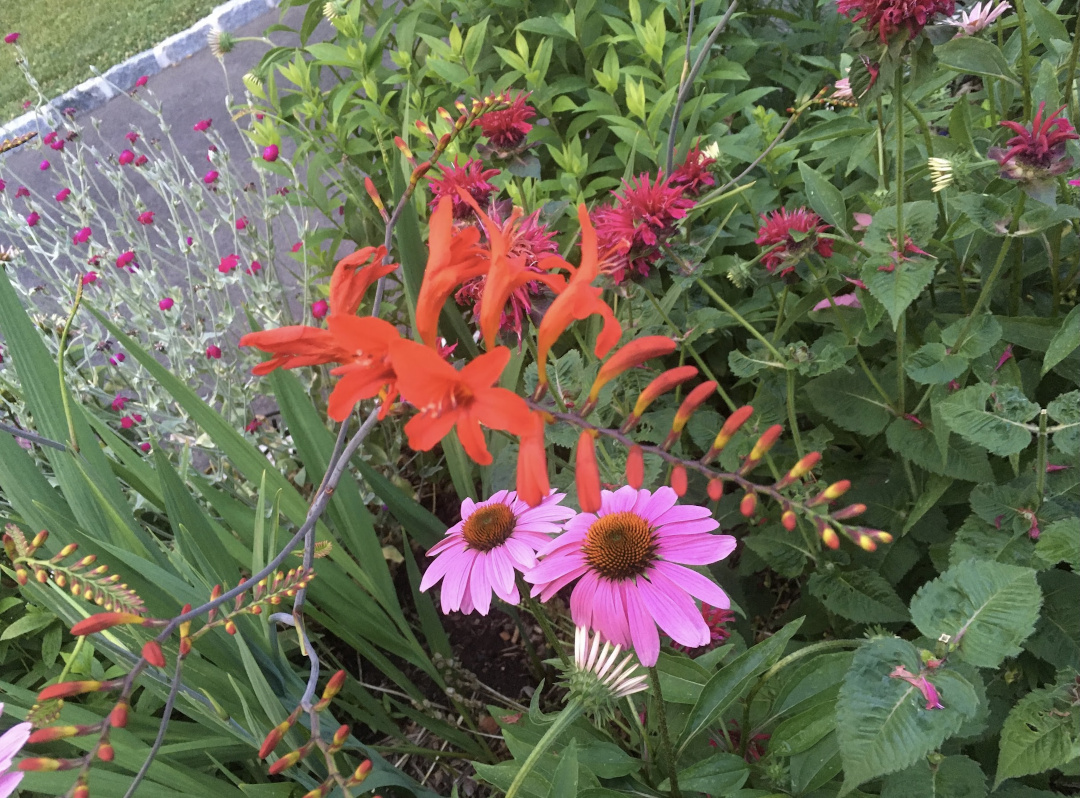 The crocosmias and coneflowers include a red bee balm (Monarda didyma, zones 4–9) and a silver-leaved rose bed (Lychnis coronaria, zones 4–8).
Hakone grass (Hakonechloa macra, zones 5–9), lamb ears (Stachys byzantina, zones 4–8), rose campion, hosta (zones 3–9) and oak leaf hydrangea (Hydrangea quercifolia, zones 5–9).
This is the edge of the sunny border that leads into the shaded area. A deodar cedar (Cedrus deodara, zones 6–8) mixes with stokesia (Stokesia laevis, zones 5–9) and pale lavender yarrow (Achillea millifolium, zones 4–8), which leads to the bed of shade-loving perennials.
A statue of a Tibetan monk is in the hosta bed.
A bright blue hosta sits next to an oak leaf hydrangea.
A close-up of some beautiful white clematis (Clematis Hybrid, Large Flowered Cluster, Zones 4–8).
Do you have a garden that you want to share?
Do you have photos to share? We'd love to see your garden, a specific collection of plants that you love, or a beautiful garden that you got to visit!
Submit 5-10 photos to for submission [email protected] along with some information about the plants in the pictures and where you took the photos. We'd love to hear where you are, how long you've been gardening, successes you are proud of, failures you have learned from, hopes for the future, favorite plants or funny stories from your garden.
If you want to send photos to the GPOD email box in separate emails, that's fine.
Do you have a cell phone? Tag your photos on Facebook, Instagram or Twitter with #FineGardening!
You don't have to be a professional garden photographer – read our garden photography tips!
Have you already received the GPOD by email? Sign in here.
Receive our latest tips, how-to articles, and how-to videos sent to your inbox.